Press Release
TAYA Groups launched a comprehensive video urging the printing industry to go PVC-Free
2020-06-11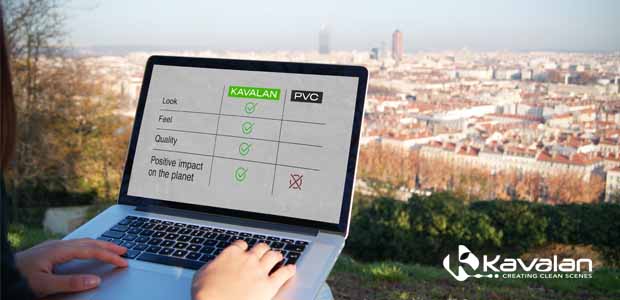 Click here to view video
TAYA Groups launched a comprehensive video urging the printing industry to go
PVC-Free
Yilan, Taiwan, R.O.C., June 11, 2020 – Today, TAYA launched its first comprehensive video, in 13 languages, for its premium eco-friendly brand of print media, KAVALAN.
One of the greatest threats to our planet is plastic waste. That means not only the PET in your plastic bottles and the LDPE in your plastic bags, but it's also the PVC coatings from print media used in the advertising industry. Businesses and brands are printing new, short term use PVC banners with every new product or brand message – and simply throwing the old ones away – this is a problem in urgent need of attention. In 2018 alone, Europe printed approximately 340 million sqm of PVC banner material – that's enough to cover Wembley stadium 4,200 times in just one year.
Vincent Lin, VP of TAYA Groups, and the creator of the KAVALAN PVC-Free range of materials, said, "With the recent COVID-19 outbreak around the world, we think it's time for people to rethink and reflect on many things, such as sustainability, what is it really? And what more can we do to help our planet in the recovery process? Most people think recycling is the most eco-friendly option for waste, but what they don't realise is that many plastic fibres, including PVC banner, are so degraded by a process dependent on massive quantities of solvents and other toxic chemicals, that they are often unusable and become waste, which is either incinerated or put into landfill. We have done extensive studies before producing this video and we are continuously learning and improving our knowledge. We hope the release of the this video can encourage more people to think and do good for our planet – after all, we only have one earth, and no matter what will happen in the future, we are all in it together. The COVID crisis reminds us all about this."
KAVALAN's lightweight, water-based coating is of the highest quality and durability, and its proven superior performance easily outperforms PVC coated materials. KAVALAN can be safely disposed of using the EU's incineration waste to energy schemes as its minimal emissions of dioxins, furans and HCl are more than 500 times lower than PVC coated counterparts. Last but not least, KAVALAN's emissions are 25% lower than PVC coated materials.
Download the video here: https://youtu.be/Vkk0JCNwsGg
-
About TAYA Groups
Founded in Taiwan in 1989, TAYA is a world-class producer and exporter of coated printing materials and its products have expanded into a comprehensive line that ranges widely throughout various industries in the world.
For the large format printing industry, our main focus is for indoor and outdoor materials including, but not limited to the following: advertising billboards, banner flags, posters and digital interior décor. All TAYA's products are produced in accordance with international standards and regulations such as REACH, RoHs, 6P and DIN4102-B1, to name a few.
For further information, including KAVALAN's worldwide distribution network, please contact
Nova Abbott, Head of Marketing
TAYA Groups
Phone: +886 983 558365
Email: info@tayagroups.com
TAYA Website: www.tayagroups.com
KAVALAN Website: www.goforkavalan.com