Newsletter
Moonlight River Backlit Set to Revolutionise Textile Production ‧ TS62 Certified Banner You Can Trust ‧ and Exciting Appointment Marks European Expansion
2022-03-28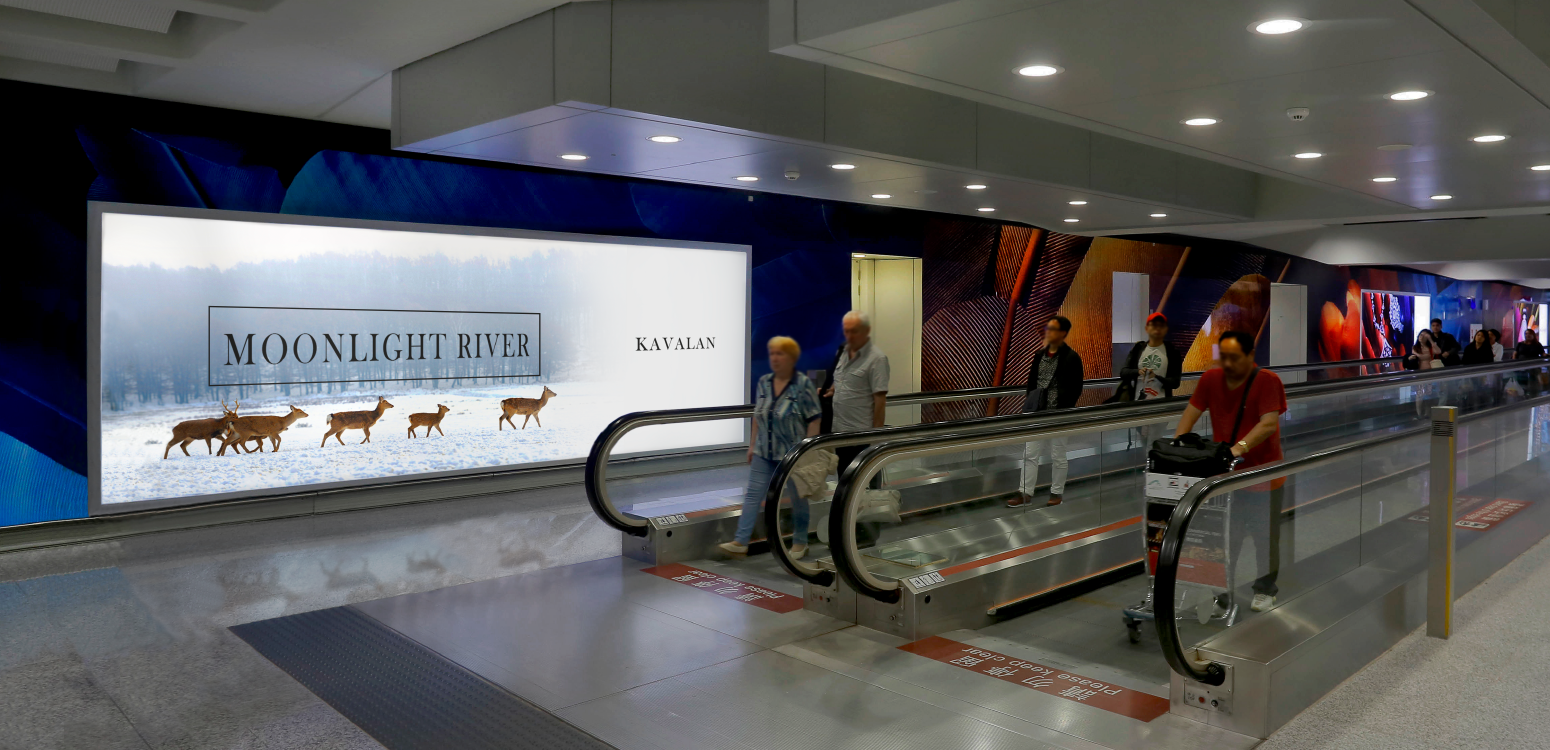 TAYA Launches Revolutionary Backlit Material, KAVALAN Moonlight River Textile Banner That Eliminates Textile Washing Process as Global Water Crisis Looms
TAYA Groups continues on its mission to mitigate the impact of banner materials on the planet, this time turning attention to the growing global water crisis with the creation of KAVALAN Moonlight River. TAYA is addressing water-intensive textile signage banners by substantially reducing water use in the polyester production process through the elimination of the dyeing stage, and is launching today to mark World Water Day (March 22nd).
Moonlight River is a replacement textile signage banner that eliminates the washing process, thereby reducing its overall freshwater usage by a staggering 67%.
River's incredible eco performance is a result of 4 years close cooperation between TAYA and its suppliers. Following successful field trials, TAYA has once again worked with leading testing and analysis organisation SGS to assess the water use for Moonlight River and verify its claims of water reduction, in much the same way that it conducted Life Cycle Assessments (LCA) on KAVALAN's range of PVC-free products to accurately quantify each product's impact on the environment.
Vincent Lin, Vice President, TAYA Groups, comments: "The launch of Moonlight River is the next natural evolutionary step as we continue to demonstrate that high-quality banner materials do not, and should not, have to come at the expense of the planet. With the daunting prospect of available freshwater reserves running out by 2040, dramatically, reducing the water usage of signage banners is an urgent priority".
"At TAYA, we have been working tirelessly with our suppliers to revolutionise textile signage banner with the development of a polyester yarn that removes the dyeing process while keeping all the strength, durability and LCA impact reductions expected of a Kavalan product. Following a great deal of innovation, perseverance and rigorous testing, we have created an outstanding and substantially greener product that we are excited to share with the world."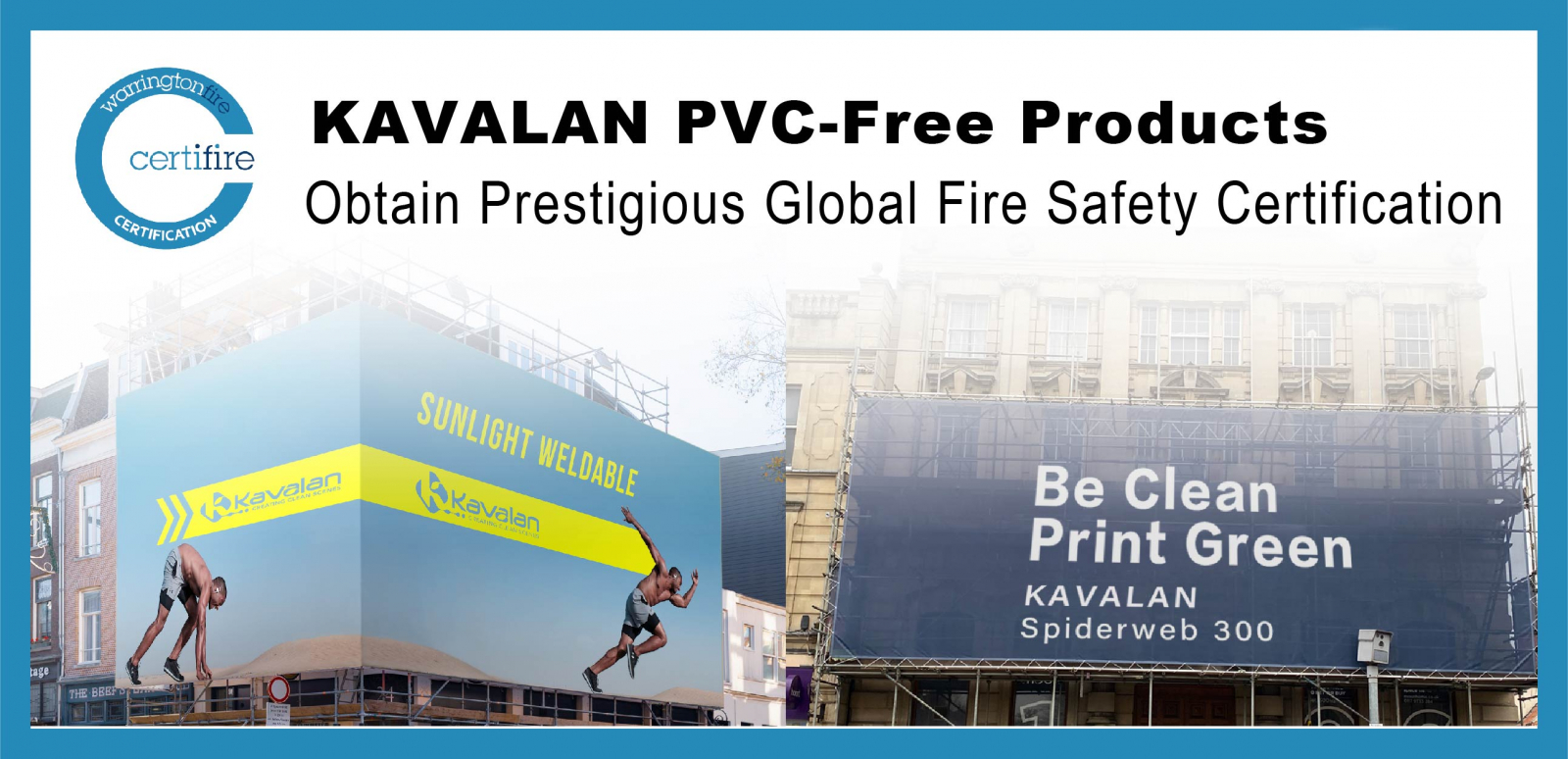 KAVALAN PVC-Free Products Obtain Prestigious Global Fire Safety Certification
Products from the KAVALAN range of PVC-free large-format materials, KAVALAN Sunlight Weldable and KAVALAN Spiderweb 300, have successfully obtained Warringtonfire fire resistant certification CERTIFIRE TS62, further demonstrating that KAVALAN's outdoor materials are a high-quality, trusted and responsible alternative to traditional PVC.
CERTIFIRE is an independent, third party level 5 certification scheme awarded to products and systems that embody 'performance, quality, reliability, and traceability', and is recognised globally as a dependable barometer of fire safety. The scheme can also be used by architects, specifiers, contractors and building owners, as CERTIFIRE provides assurance that fire protection products and systems correctly installed will perform as required.
The certification distinguishes PVC-free KAVALAN building wrap materials from any competition. These products will now bear the CERTIFIRE mark and once printed, can be used on any scaffolded buildings and construction sites, along with the many other promotional and branding applications for which banner and mesh are used.
Vincent Lin, Vice President, TAYA Groups, comments: "KAVALAN is upholding its reputation as a pioneer, setting our products apart by acquiring the respected Warringtonfire CERTIFIRE certification which will become a mandatory requirement for scaffolding and building wrap projects in the future.
"We are always looking for ways to substantiate the quality and sustainability of the KAVALAN range, from our rigorous Life Cycle Analysis (LCA) assessments, to the development of the industry's first Eco Calculator for large-format banner materials, and now CERTIFIRE TS62 for Sunlight Weldable frontlit and Spiderweb 300 mesh banners – all of this compounds KAVALAN's unrivalled value proposition."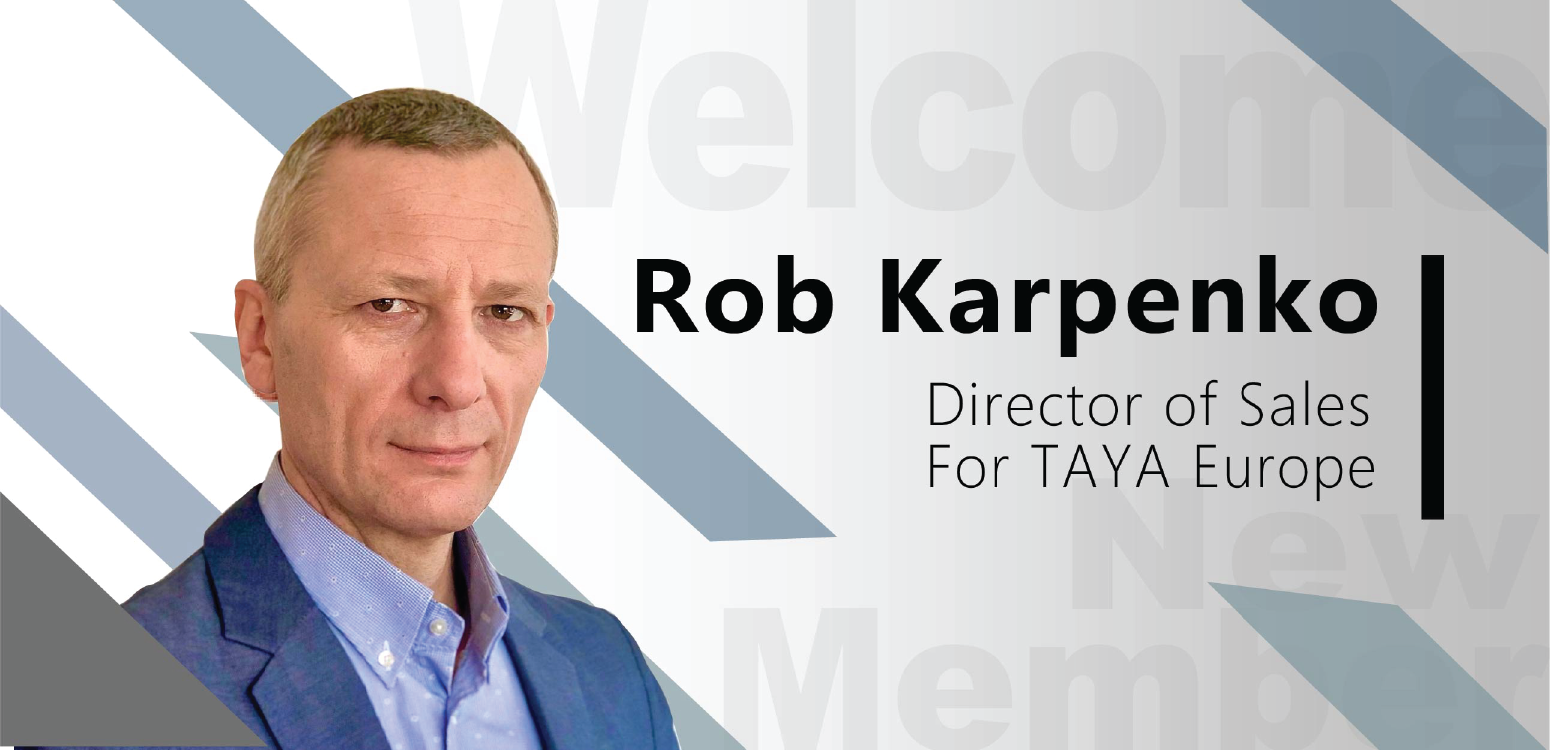 TAYA Groups Announces Strategic Appointment To Meet Growing Demand For KAVALAN In Europe
TAYA Groups today announces a new appointment within its international workforce as Rob Karpenko joins the business as Director of Sales for TAYA Europe.
The newly-created role forms part of a strategic plan to further develop and strengthen the PVC-free KAVALAN brand in the European market, where demand for high-quality, environmentally-responsible materials continues to grow.
Rob Karpenko brings with him more than 20 years of industry experience, having held a number of Senior international positions with leading Multinationals in the Viscom area. Based in Geneva, Rob will focus on fostering new and existing relationships with KAVALAN partners across Europe, building on the brand's strong reputation and utilising the robust Life Cycle Analysis and Eco Calculator data in order to empower more global businesses to embark on a successful PVC-free journey.
Speaking about his new role, Rob Karpenko comments: "There's no doubt that the KAVALAN product range is the future – the end of PVC is already well underway. The requirement for my new role on the ground in Europe to build on KAVALAN's already stellar results is proof of where the industry is heading. I'm excited to be that person leading the charge in the region and to be working with such a skilled and passionate team."
Vincent Lin, Vice President, TAYA Groups, comments: "We're delighted to be bolstering our presence in the European market and are very pleased to have Rob Karrpenko as the driving force behind KAVALAN's expansion across the continent. We're seeing strong demand globally for quality, reliable materials that don't harm the planet. Therefore it's absolutely the right time to bring an additional champion for KAVALAN on board in Europe, who can continue building strong relationships with our valued international partners."