Blog
COP27: What we Learned, What it Means, and What Comes Next
2022-12-07
COP27, the annual UN Climate Change Conference, took place last month in Sharm El-Sheikh, Egypt. World leaders convened to discuss climate concerns, of which there is no shortage. The world is "on the highway to climate hell with our foot still on the accelerator", as UN Secretary General Antonio Guterres puts it. While the language is provocative, the sentiment is no exaggeration.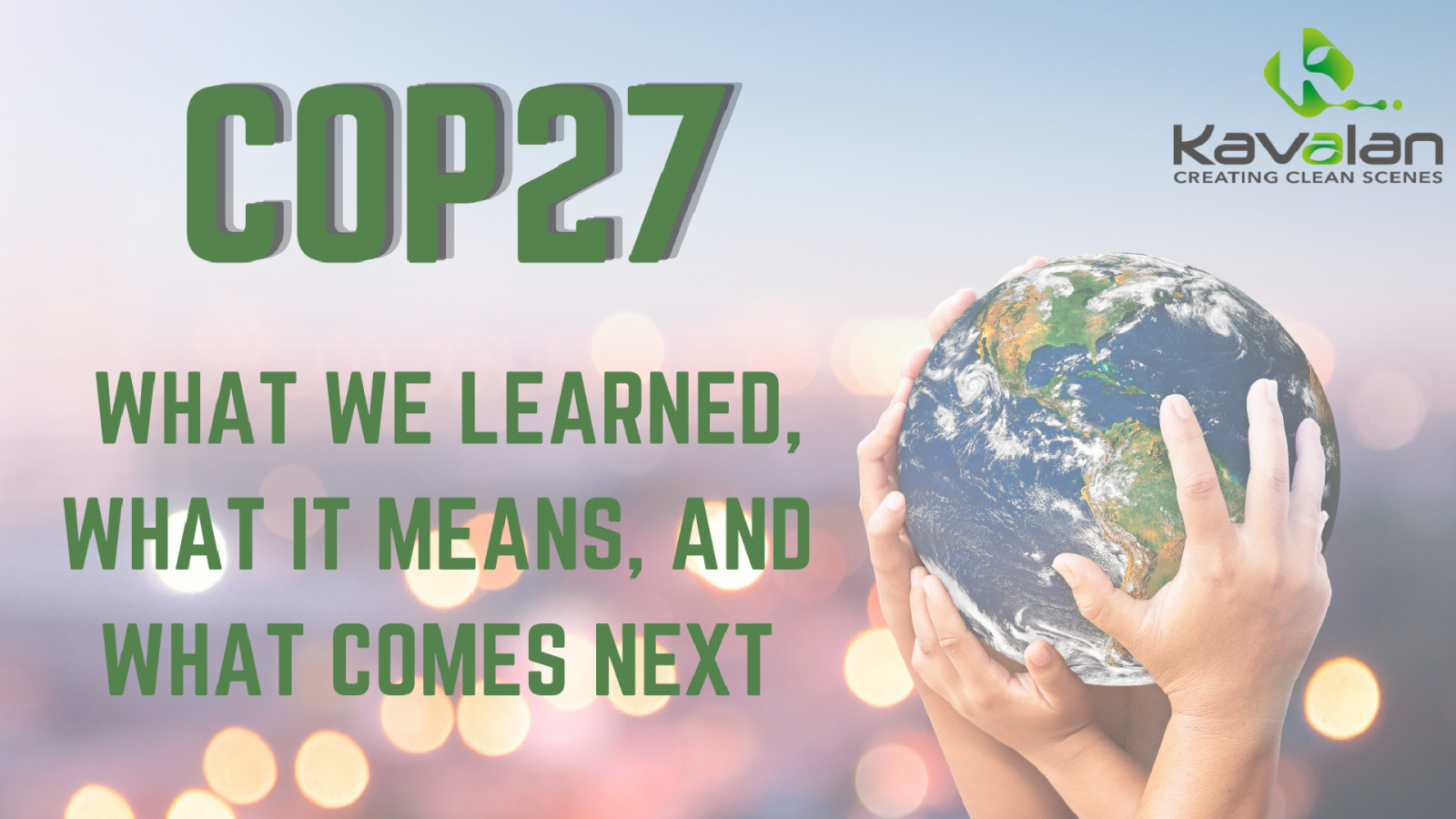 As KAVALAN encourages businesses in the wide-format print sector globally to begin or continue on their sustainability journey, we take a deep dive into the bigger picture against the backdrop of COP27 and examine some of the key talking points of the conference. How will they (and won't they) impact the fight against climate change?
Leaving 1.5°C Behind?
The 1.5°C target was a defining goal of the Paris Agreement in 2015, aiming to keep global temperatures below 1.5 degrees Celsius and 'well below' 2 degrees. Last year at COP26 in Glasgow, close to 200 countries committed to keeping this 1.5°C goal alive. COP26 President Alok Sharma said in Glasgow: "We can now say with credibility that we have kept 1.5 degrees alive. But, its pulse is weak and it will only survive if we keep our promises and translate commitments into rapid action."
The years since the 2015 agreement have likely been the warmest on record, and there is a 50% chance that global warming will exceed 1.5 degrees Celsius within the next nine years. Governments and organisations worldwide are at a crucial crossroads – the actions they make now will impact the trajectory of global warming.

Greenwash Crackdown
UN experts released new guidelines for net zero pledges, in an attempt to reduce greenwashing. Styled as a 'how-to-guide', the advice will help to ensure credibility and accountability, preventing businesses from greenwashing emission goals.
The report contained four major guidelines:

• Environmental integrity - net zero pledges must correspond with the global goal of limiting warming to 1.5 degrees.
• Credibility - businesses, local authorities, and banks should outline their plans and making them publicly available.
• Transparency - progress of the net zero initiative should be made public, to avoid greenwashing.
• Government aid - governments should be doing more to help and support net zero efforts.
It is important to note that around one-third of the 2,000 biggest firms by revenue globally have publicly stated net zero targets , however as much as 93% of those have no way of achieving these goals based on their current efforts. Without doing much more, they will almost certainly fall short. This will likely be a challenge for firms across the board - it may only be a matter of time before the trickle of excuses begins. As António Guterres puts it, while the increase of net zero pledges is good news, the "loopholes are wide enough to drive a diesel truck through."
Fossil Fools
The world just can't seem to let go of fossil fuels. Far from going in the right direction, analysis by the Global Carbon Project shows that fossil fuel emissions are set to reach a record high in this year. Having decreased due to the onset of COVID-19, emissions will reach 40.6 billion tonnes, which is a 1% rise from 2021. Responsible energy transition is important, but language in the Sharm El-Sheikh Implementation Plan such as 'low emissions' energy may just serve as a loophole for ongoing fossil fuel development.
There is also a significant problem around underreported gas and oil emissions; data provided by the non-profit organisation Climate TRACE reveals that the countries required to report to the United Nations Framework Convention on Climate Change (UNFCCC), produce emissions that are three times higher than reported.
Furthermore, the UNFCCC showed that no nation had submitted a complete account of its 2021 emissions to UNFCCC, as of October, while a staggering 52 countries are yet to submit any emission inventories that cover the past 10 years.
UN General Secretary Antonio Guterres has demanded a wake-up call to both governments and financial sector, particularly to those that continue to invest in fossil fuel pollution.

Loss and Damage
The focus on loss and damage funding at COP27 was encouraging. For decades, developing countries have borne the brunt of catastrophic climate impacts such as ecosystem ruin and sea level rises, while contributing least to the problem. Calls for financial reparations from richer nations are understandable, particularly with events such as Pakistan's recent devastating floods as a glaring example of this inequality.
Around £290m of new pledges for loss and damage were made at COP27, including from the EU, Canada, and New Zealand. However, there is a risk that richer nations will continue attempting to defer loss and damage funding further, as details still need to be ironed out and crucially, committed to.
Time to Act Fast
The first Conference of the Parties (COP) meeting took place in 1995. The world really needs more action, more commitment, and more speed when it comes to tackling climate change. While hopeful changes are being made and critical topics discussed, climate action plans are falling far short of what is needed to avoid dangerous climate impacts.
From a business perspective, the veil that once concealed corporate greenwashing is slipping, particularly as revealing data becomes more public. The impetus for businesses to increase sustainability efforts is clear, and at a critical point, and partnering with sustainable businesses throughout the value chain is imperative.
With such weighty subject matter, it can feel like we can't make a difference – but we can. KAVALAN understands the importance of sustainability and environmentally responsible products. This is why we created the revolutionary range of PVC-free alternatives to traditional banner and textile materials, supporting non-toxic end-of-life disposal and reducing environmental impact throughout the entire production process. The environmental superiority of the KAVALAN range when compared with traditional PVC banners is verified by the Life Cycle Analysis (LCA) process - find out more here.