Newsletter
TAYA'S HIGHTLIGHTS OF Q2 2021
2021-06-29

10 YEARS OF COMMITMENT TO MOTHER EARTH

24th June, 2021, marks the 10th anniversary for Kavalan PVC-free material … and what a 10 years it has been.
All of this started out with our VP, Vincent Lin, consolidating Taya's first PVC free materials, Eco-7 and Bio-7, into one product and renaming it KAVALAN. This was the moment the concept of expanding KAVALAN into a complete product range was envisaged. KAVALAN became the first PVC-free brand with a complete product range to directly replace PVC banner in a variety of applications throughout the world. The first dedicated KAVALAN production line was established in 2014 and in conjunction with a newly installed recycling water-cooling system and the installation of solar panels, the production process is as green as the product itself!
In 2016, Taya's R&D team developed the third generation of water based eco-friendly coating technology, which included a directly weldable coating recipe, which is regarded as the ground-breaking invention for the PVC-free banner industry.
From the very start we have been committed to investing in the latest technology to give our clients access to the best quality products and make a positive contribution to the planet. Over the 10 years, KAVALAN has expanded into many sectors and its eco-credentials, compared with PVC banner, have been scientifically proven by the Life Cycle Analysis (LCA) process, performed SGS, the world's leading testing, inspection and certification company. Through Kavalan's new Eco Calculator, we are now able to show our customers the eco savings they can make and the difference it will make to the planet and humanity's future. These ground breaking advances show just how far print technology has come since we first made our entry in to the market place.
Some of the Eco Savings made since the birth of Kavalan:
Total CO2 equivalents: 4,542,036 kg CO2 eq.
Total freshwater saved: 79,200,323 litres
Total Fine Particulate Matter (PM2.5): 8,213 kg PM2.5 eq.
Total Fossil Fuels: 1,888,489 kg Oil eq.
Total Human Carcinogens: 354,800 kg 1,4-DCB
We are hugely proud of the difference Kavalan has made to mother earth over the years, and we owe all of this to our loyal suppliers, customers and staff, both old and new, without whom we wouldn't be where we are today. Here's to the continuous commitment to our planet.
---

KAVALAN Announces Distribution Partnership with Spicers Australia as Worldwide Shift to PVC-Free Materials Continues
TAYA Groups is pleased to announce a new partnership with leading Australian print distributor, Spicers Australia. Marking the continued global adoption of more sustainable printable materials, the collaboration, already in effect, will allow Spicers to offer the KAVALAN range of PVC-free, 100 percent clean large-format media to their significant Australian customer base. This will meet the growing client demands for more sustainable, high-quality solutions.
KAVALAN is a revolutionary range of banner materials, and unlike any other product on the market today, it has the unique advantage of offering supreme quality, strength and performance with none of the ecologically-toxic elements of traditional PVC banner. Its key focus on a zero-toxic end-of-life disposal and a reduced environmental impact throughout the entire production process is now paying dividends for KAVALAN customers and the environment. With the Life Cycle Analysis (LCA) process completed on the latest range of KAVALAN banner materials, the range is now the proven environmentally-superior alternative to traditional PVC banner.
This momentous partnership in the Australian market is a vital step towards the elimination of PVC in banner materials worldwide. To put the significant environmental impact into comparable terms, below are examples of the Eco-savings to be made if PVC banner is replaced with their Kavalan counterparts.
10,000 square metres of KAVALAN Butterfly360 will save enough CO2 equivalents emitted during fifteen single economy seats from New York to London

10,000 sqm of Sunlight Light will save enough fossil fuel to power a BMW 3 series on 16 return journeys between London and Paris.

10,000 sqm of KAVALAN Spiderweb300 would save the carcinogenic equivalent as 7.4 million packs of cigarettes.
Vincent Lin, Vice President, TAYA Groups, comments: "We are so excited to start our partnership with Spicers Australia, and for customers in the Australian market to enjoy the environmental and commercial benefits of the KAVALAN range. The Spicers team understands and engages with KAVALAN's environmentally-responsible mission, and holds an outstanding reputation in the market. We can't wait to see customers getting creative with KAVALAN products across Australia, while also doing their part to protect and preserve our planet."
Wayne Hood, Spicers Sign and Display Portfolio Manager, adds: "Introducing the Kavalan range to our portfolio allows us to better align with our customers' sustainable initiatives. We are constantly searching the world for new products which meet best practice standards in manufacturing, performance and sustainability. Kavalan is a perfect addition to our range offering a non-PVC solution to our customers."
Samples are available in Australia from Spicers representatives.
For further company information on TAYA Groups, please visit www.tayagroups.com.
For further product information on the KAVALAN range, visit www.goforkavalan.com.
To begin your green journey with KAVALAN, contact info@goforkavalan.com.
---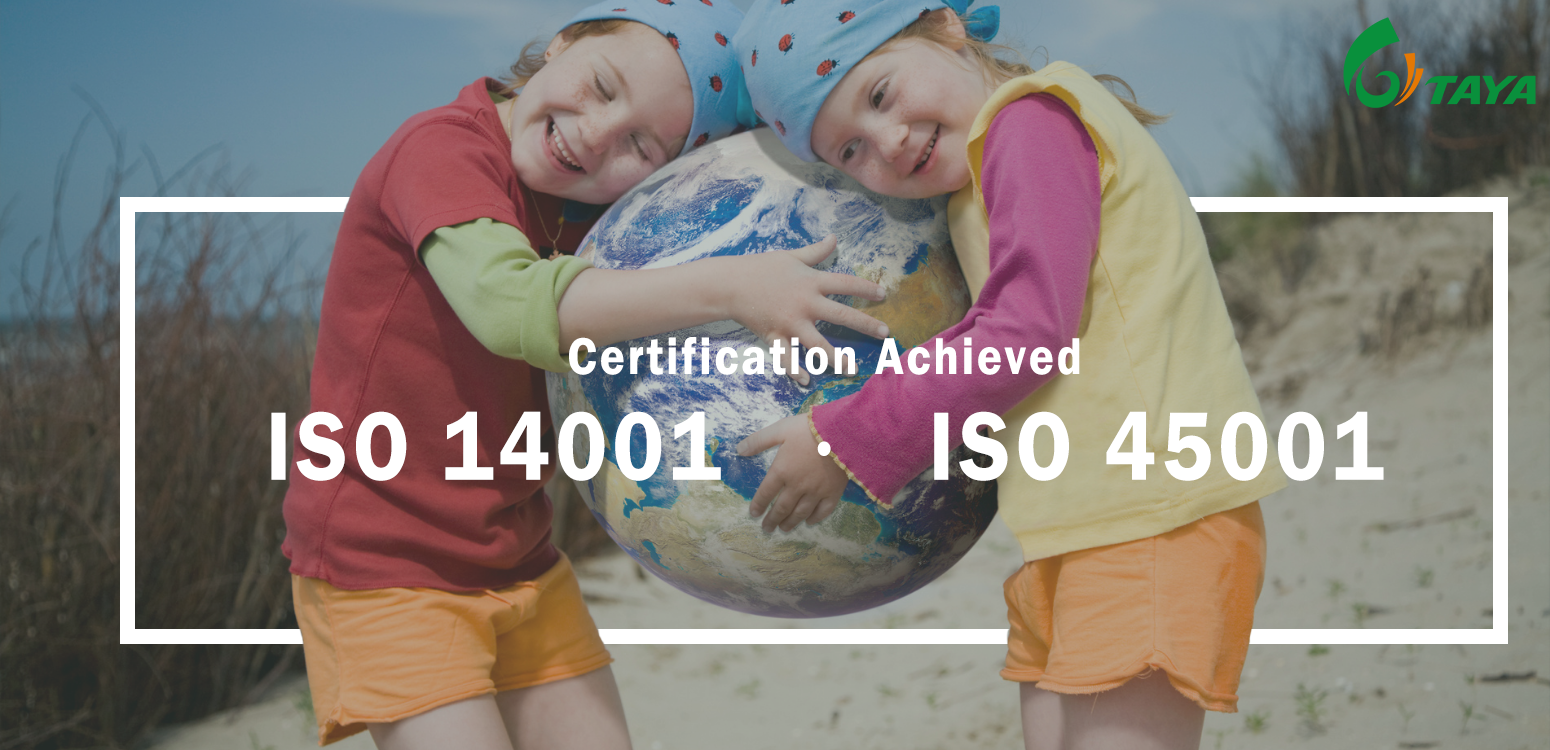 Taya Is Proud to Announce That We Have Achieved 14001 & 45001 Certification
In addition to successfully achieving certification for ISO 14001: Environmental Management Systems, and the yearly follow-up audit of our Quality Management System for ISO 9001, we are proud to announce that Taya has also obtained the certification for ISO 45001: Occupational Health and Safety in workplaces. These certifications form the backbone of Taya's corporate responsibility policy.
ISO 45001 is the internationally recognised standard for occupational health and safety, and it provides companies with suitable instruments and measures to implement occupational health and safety in practice, thereby improving safety at work. ISO 14001: Environmental Management Systems provides the framework to allow us to demonstrate our corporate responsibility by ensuring environmental awareness throughout the industry and our commitment to reducing Taya's impact on the environment.
In short, ISO 14001 certification covers our responsibility to the planet and ISO 45001 certification relates to our health and safety responsibility for all our people working at, and on behalf, of Taya.
In line with the philosophy of the founder of Taya Groups, Mr Lin Yi-Chien, Taya has actively implemented policies to contribute to the well-being of our employees, customers, communities and the environment. Also, we ensure that our suppliers support and comply with Taya's corporate responsibility policy and code of conduct. All three management systems are in place to ensure that improvement is not incidental but is embedded in Taya's corporate structure and culture.
Commitments to product quality, the environment and quality of life are vital to us. Taya will continue to provide a competent and comprehensive service, in full compliance with environmental sustainability and corporate responsibility commitments.