Blog
Omnigraphics Sums up the Eco Savings with Kavalan PVC Free Banner
2021-05-06
How does a large format print company with 50 years in the business remain at the cutting edge of outdoor advertising? For Omnigraphics, the market leader in New Zealand, it's about pushing the envelope and never being afraid to try something new. When presented with the opportunity to challenge tradition with Kavalan's PVC-free range of materials, Omnigraphics was the perfect pioneer to blaze a trail for a greener path forward.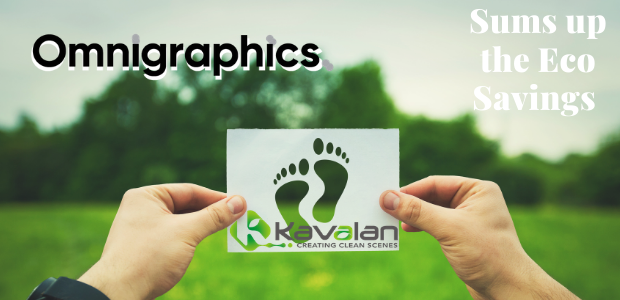 Omnigraphics has encountered other PVC alternatives throughout the years, and while they may have been an environmentally-superior option to traditional PVC, they have not been able to go the distance in the way that Kavalan can. Kavalan's suitability to a wide range of applications and its outstanding printability allow Omnigraphics to fulfil its sustainable mission statement while maintaining its reputation for quality in the market.
The majority of the prints that Omnigraphics uses the Kavalan product for go through the company's 3.2m wide Latex printer, the HP 3600. Steven Spear, Managing Director of Omnigraphics, says: "Kavalan products are very revolutionary for us because it's the first time we've actually been able to go out with a marketable PVC-free product. Everyone loves it. The installers love it, the clients love it, everyone just loves it."
Taking that leap and opting for a game-changing product is what being an innovator is all about. But how did Omnigraphics determine if going for Kavalan is paying off? Well, the numbers don't lie – 2.1 million litres of water saved. 120,000 kilos of CO2 saved. 57,000 kilos of oil saved. Those figures are impressive, but not that easy to visualise, so let's take a look at what those numbers amount to: 129,000 kilos of CO2 = 91 flight between London and New York. 57,000 kilos in oil = driving a BMW M3 from London to Paris – 206 times!
Making sustainable choices for your business isn't just a nice thing to do. For Omnigraphics, that simple switch to Kavalan PVC-free has a tangible, measurable impact that pays dividends for their projects as well as the planet. Choosing Kavalan means slashing CO2 emissions, dramatically cutting water consumption, a substantial reduction in carcinogens, and halving the weight of traditional banner, all while delivering outstanding performance that rivals PVC.
Steven Spear sums it up perfectly: "For us, Kavalan is the perfect product. It's sustainable. It's got a great story. It's backed up with the figures that we need, and our clients love it. It's very printable, and it's helping us grow our business. If I could sum it up in one word, perfect. For us, it's the perfect product."

Could Kavalan be the perfect product for you?
Find out how to take that leap and be a pioneer. Go PVC free, go for Kavalan! Join us on our green journey now.