Newsletter
Our PVC-Free Journey Continues! Kavalan Expands Availability
2021-03-10
It's been an exciting start to 2021 for Taya Groups. As part of our community, you'll be pleased to know that our green revolution is on the rise! Thanks to our new partnership with Neschen/Filmolux for distribution of Kavalan products in Germany, Benelux and more key European countries, millions of people are a step closer to living in a PVC-free world, and with Life Cycle Analysis (LCA) processes now carried out on all latest range of products, Kavalan is officially confirmed and accredited as the much more environmentally-friendly alternative to traditional PVC banner. Thank you for being on this PVC-free journey with us – the best is yet to come!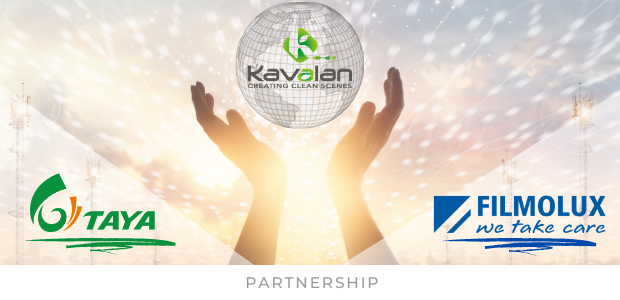 TAYA Groups Announces New Distribution Partnership with Filmolux Group (member of Neschen Coating GmbH) to Supply Kavalan PVC-Free Range In Key European Territories
TAYA Groups announces a distribution partnership with European-wide acting Filmolux Group. The partnership allows Filmolux to supply the PVC-free KAVALAN range of 100 percent green large-format media in Germany, as well as in Austria, Scandinavia, Benelux, Italy, and Switzerland.
KAVALAN is a revolutionary range of banner materials with a unique value proposition unlike any other product on the market today, offering supreme quality, strength and performance with none of the ecologically damaging elements of traditional PVC, and a key focus on zero-harm end-of-life disposal.
Vincent Lin, Vice President, TAYA Groups, comments: "It's so important with products like KAVALAN, with the potential to disrupt and transform the market for PVC banners, that our partners understand and champion the KAVALAN philosophy.
"On top of this, the business enjoys a stellar reputation in the territories acknowledged in our agreement, and possesses the technical expertise, marketing prowess and commitment to excellence that will surely see this partnership exceed our expectations. We are delighted to be embarking on this next chapter of our green journey with Filmolux."
Nils A. Honscha (Neschen) adds: "It is fantastic to finally be able to announce this exciting partnership with TAYA Groups to supply and advocate for the outstanding KAVALAN PVC-free range. Our values and goals are well-aligned and we are looking forward to providing key European territories with a fantastic choice of green materials, something that has been desperately needed in the industry for so long. With a long-term partnership between TAYA and Filmolux just getting started, a new, greener day is certainly dawning for digital wide-format print."
KAVALAN product samples are now available upon request in anticipation of the upcoming launch – interested parties are encouraged to contact Filmolux Group, www.filmolux.com.
For further company information on TAYA Groups, please visit www.tayagroups.com.
For further product information on the KAVALAN range, visit www.goforkavalan.com.
To begin your clean journey with KAVALAN, contact info@goforkavalan.com.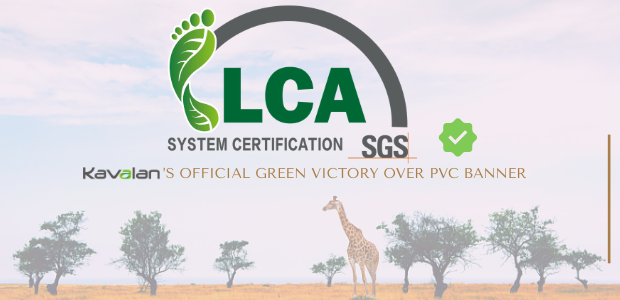 The Numbers Don't Lie –Kavalan's Official Green Victory Over PVC Banner
The results are in – it is with great pride that TAYA can announce it is the first company in the world to successfully complete Life Cycle Analysis (LCAs) on an entire range of PVC-Free banner materials. On behalf of Taya, SGS (formerly Société Générale de Surveillance), one of the world's most revered inspection and validation services, has recently completed LCA processes on the entire KAVALAN range. The results validate exactly what we already knew – Kavalan is the environmentally superior alternative to traditional PVC banner. From its significantly lower carbon footprint and lower water consumption, to its amazing non-toxic biodegradable film, Kavalan is light years ahead of PVC banner, and we have the numbers to prove it!

The certified LCA process forms part of the ISO 14000 series of internationally recognised standards for environmental management. It analyses the environmental impact of a product from cradle to grave and combines historical data, test results and scientific measurements to produce numerical analysis for various environmental impacts. These impact categories include global warming, pollution, biodiversity decline, algae growth, and water consumption, among others. The LCA is the perfect tool for providing direct environmental comparisons between products and allowing customers to make purchasing decisions based on outstanding quality and environmental impact.

To assess these impacts the LCA process looks at the 3 stages of a product's life:
• Upstream activities such as raw material extraction, production and packaging
• Core activities including transportation, energy and water usage, and production
• Downstream end of life activities, include waste management and disposal

All these processes have an impact on the environment, and numerical evaluation provided by the LCA shows we can no longer hide behind subjective assumptions or so called professional opinions - the numbers don't lie!

It's important to realise that across the globe many individuals, environmental bodies and institutions are having a growing influence on governments to meet a number of environmental goals through a variety of schemes which use analysis data provided by the LCA process, among others. Indeed, important environmental information, such as CO2 and water footprints, are increasingly being used to hold governments to account by forcing them to set limits and targets for a country's emissions and consumption. Challenging decisions are ahead as the world works towards these environmental objectives – however, an easy eco choice is right in front of us – going PVC-free with Kavalan!
To get the details on Kavalan's LCA findings and find out how to start your PVC-free journey and help save the planet, please contact us on info@goforkavalan.com .